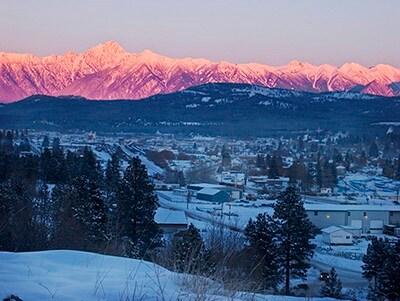 Cranbrook Dodge is your Chrysler, Jeep, RAM, FIAT, and Dodge car dealer located in Cranbrook, BC, the business and retail hub of the East Kootenay region. 

Our dealership offers the best and largest selection of Chrysler, Jeep, RAM, and Dodge cars, trucks, vans, and SUV's for sale of any dealership in the East and West Kootenay regions. 

If you are looking for a "new to you" vehicle, take a look at our large selection of pre-owned vehicles.  Our auto dealership has an extensive selection of used trucks, cars, SUV's, and vans for sale of every make and model, including certified used vehicles.  Our rigorous inspection process performed by certified technicians means that when you purchase a used vehicle from Cranbrook Dodge, you are purchasing quality. 

At Cranbrook Dodge, we don't just sell cars, we build relationships.  We love showcasing our Happy Customers and are committed to keeping you happy over the life of your vehicle.  Our certified technicians pride themselves on providing exceptional maintenance and auto repair services, and our parts experts are at the ready to provide you with any needed parts or accessories.

We understand the driving conditions and challenges our customers face on Kootenay roads because we drive those same roads.  This means that our dealership sales experts can help you find the perfect car, truck, SUV, or van to suit your individual needs, our parts experts can help you find the best parts and accessories, and our service experts can ensure that your vehicle gets all of the care that it needs for Kootenay weather and road conditions.

Our car dealership's vehicle line up is as diverse as your driving needs.  We have your perfect vehicle, whether that is a hard working truck, a luxurious, fuel efficient sedan, a versatile family vehicle, or a SUV that is just as comfortable on road as off road. 
Click below to see our our remaining 2018 models and amazing 2019 line up:

Cars
SUV's
Trucks
Vans
Our dealership's experienced finance experts set us apart from other car dealerships, making shopping for your next car, truck, SUV, or van easy by helping you get a car loan with the best possible interest rate and terms. 
When it is time to service or repair your vehicle, our dealership's highly trained certified technicians provide fast, accurate, and competitively priced auto service and repairs. 
Are you looking for parts or accessories? The Cranbrook Dodge parts centre offers authentic Mopar parts and accessories, engineered to be part of your vehicle right from the start by the parts and accessories division of Chrysler, Jeep, Dodge, and RAM.
Contact us online,call us at 1 (888) 259-7039, or come in and say hello!

Our dealership is easy to find, located at 1725 Cranbrook Street North in Cranbrook, BC.
To keep up to date on the latest news at Cranbrook Dodge, don't forget to like us on Facebook, follow us on Twitter, subscribe to our channel on Youtube, follow us on Instagram, or join our circles on Google.