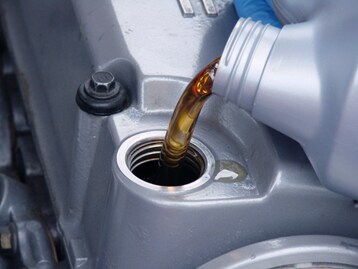 One of the most important maintenance procedures for your car, truck, van, or SUV is changing your engine's oil and filter.  Oil keeps friction down in the engine and prevents the motor from seizing up.  It is important to perform required service such as oil changes at the proper intervals in order to maintain your warranty. 

Your owner's manual explicitly lists service intervals, although vehicles are also often equipped with dashboard lights that signal needed maintenance.  At Cranbrook Dodge, our Service Advisors would be happy to provide you information on your vehicle's service intervals. 

At Cranbrook Dodge, we know your Ram, Jeep, Chrysler, FIAT, and Dodge vehicle like no one else. 

Our technicians are specifically trained to work on your vehicle;


Our sixteen point inspection that is included in all oil changes allows potential problems to be caught and taken care of early;

Your vehicle will receive the correct manufacturer recommended oil and filter;

Our oil changes are competitively priced;

We perform a recall check every time that you bring in your vehicle;

We keep detailed records of every time we work on your vehicle.

Should I Choose Standard Motor Oil or Synthetic Motor Oil?
Synthetic motor oils can be a good choice for high output, turbocharged, or supercharged engines, vehicles that are used for towing (especially during hot weather), and vehicles that operate in extremely cold or hot climates.  Although more expensive than mineral-based oils, synthetic motor oils may improve fuel economy and provide longer intervals between changes.

Fill out the form on your right, or call us at 1 (888) 697-0855, to book your oil change today!